It's all about Reputation
88% of consumers said they were more likely to buy from a company that supports and engages in activity to improve society
The best strategies for sustainability must align with your organization's ambitions and values.

Alex Woolf
Chief Operating Officer, Romulus & Masterclass panellist
Standing out as a purpose led, sustainable business attracts like-minded talented employees, who want to make a difference and they in turn attract like-minded clients, suppliers and stakeholders.

Alex Hughes
Founder Auxilium Business Consulting & Masterclass panellist.
Sustainability isn't a race.  It's a journey.  We are all on different levels but we are all moving forward.

Richard Collins
Founder of CSR-A and International Keynote Speaker on Sustainability.
We have a responsibility to influence businesses to take action on being more sustainable.

Diana Sterck
CEO of Merton Chamber of Commerce and CEO of Sustainable Merton
How we can help your business
From networking to compliance to business development, all our events are geared to help you develop and grow your business through raising your profile, making valuable contacts and improving your business performance.
We provide important updates from Member businesses, partner organisations and government, both locally and nationally.
Merton Giving, our partners through Merton Connected, make it easy to get involved with local charitable causes.
Our member directory showcases our trusted members and helps connect you with the wider business community.
Our Business Resource hub instantly connects you to valuable sources of information across topics including recruitment, well-being, sustainability and marketing among others.
The prestigious Merton Best Business Awards recognise and promote excellence, innovation and best practice in Merton since 2013.
Connect for Growth and Success
As the largest area-based Chamber of Commerce in London, we have a reputation for understanding business and supporting sustainable business growth. We have built our connections and knowledge over the past 30 years and use our established marketing channels and extensive business database to connect and raise the profile of our business members.
Annual Membership packages start from just £180 per year.
About Merton Chamber of Commerce
Our mission is to provide first-class support to businesses across Merton, and create a sense of community through valued networking, events, local partnerships and access to the wider Chamber movement.
We want to be a catalyst for sustainable business growth, a community of leaders and influential members of the wider business ecosystem.
"Merton Chamber is here to support you in reaching out for better business - for you, for the people you employ and for our community."
Diana Sterck
C.E.O. 
Merton Chamber of Commerce
Why join Merton Chamber
of Commerce?
We Amplify your Voice
As a London Chamber affiliate, we lobby on your behalf and represent your business issues locally, regionally and nationally.
We Connect you
We have extensive connections and will introduce you to other members and local services.
We Promote You
We raise your business profile, promoting your stories and successes and helping you find new business leads.
We Save you Time
We are a single point of access to business advice, solutions and free resources.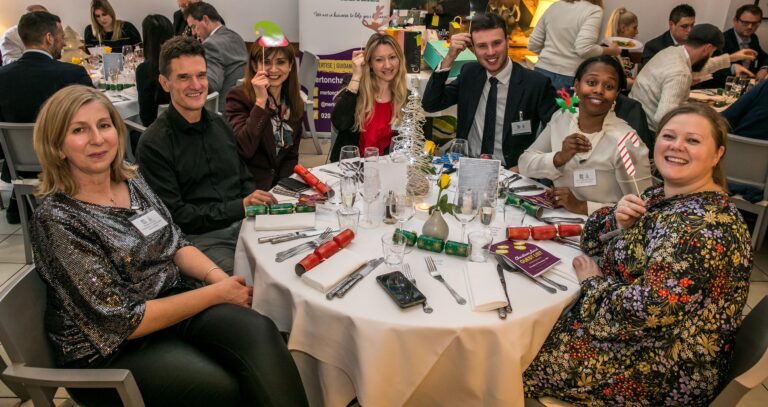 Join us as we get into the festive spirit on December 13th at 12:30pm in Al Forno, Wimbledon for an …
Compliance During this full day course, you will learn basic life-saving first aid and workplace health and safety regulations. …
Compliance This hands-on practical workshop is aimed at those employees within the organisation who have a key role to play …
Contact us today to find out how we can help your business.
Merton Best Business Awards
Privileged organisers of this celebration of the amazing businesses across Merton. We can guarantee by being involved, either as a sponsor, winner or shortlisted applicant, the profile of your business will increase.
I always come away from Merton Chamber events with at least one really useful bit of information which has a positive ripple effect within our company.
Merton Chamber of Commerce are making great strides in increasing the quality and value/benefit of these networking events. The choice of speakers is always spot on, I leave these events having learned something new and feeling inspired to take some steps in the right direction. And inevitably I will have met a few interesting contacts.
Such a creative and informative evening. Look forward to the next and thanks for having us!
Matthew Gordon Lewis
Executive, Roomspace
This is a win / win partnership. We are so pleased to be associated in this way with London's largest area-based Chamber of Commerce and it's a perfect fit for us as a major provider of accounting services in the region.
Jonathan Askew
Partner, Hartley Fowler Chartered Accountants
We have worked closely with Merton Chamber for many years and are delighted to formalise our strategic partnership in this way. We look forward to supporting the great work that Merton Chamber does in the business community as a Patron Member for many years to come.
Paul Harvey
Managing Partner, Morr & Co. Solicitors
Being a Premier Member is extremely beneficial to our business. We not only have access to invaluable support and information but as word of mouth and networking is so crucial to us, being part of the Chamber helps us make some great introductions and connections within the local business community."
Parties to Go
My business is all about making connections and networking and nobody does it better than the Merton Chamber. They have introduced me to so many movers and shakers in business and politics as well as local community members.
Karine Torr
Editor, Darling Magazine
Patron members and Premier members
Over 600 Members
Chamber of Commerce
7000+ Businesses
Social Media Reach
30+ years
Operating Chamber
2500+ contacts
Business Database
Our Patron Member, Hartley Fowler have written this insightful booklet that focuses on the pros and cons of letting out …